Breakfast Lasagna
Servings: 4
Difficulty: easy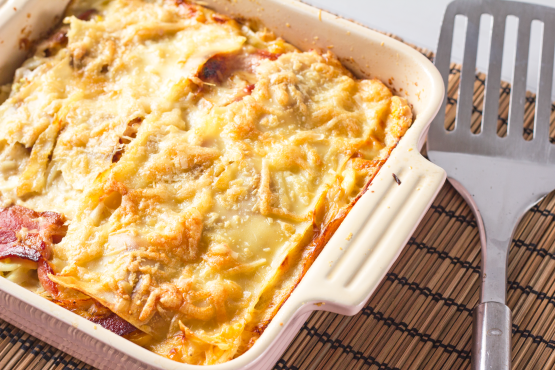 This dish could be easily prepared the night before, so it is perfect to speed up the typical morning routine, or to make your traditional Saturday morning brunch a breeze.
Ingredients
8 eggs, scrambled
1 cup shredded cheddar cheese
12 sausage links, fully cooked
12 cream cheese pancakes (unsweetened)
Directions
Cover the bottom of an 8 x 8 pan with 4 pancakes, it's ok if they overlap. Put down a layer of scrambled eggs, followed by one third of the cheese. Cover with another 4 pancakes, then add all of the the sausage links. Sprinkle with another one third of the cheddar cheese. Add the last layer of pancakes, followed by scrambled eggs, and the remainder of the cheese. You can use more cheese if you like.
Bake in the oven for 8 – 10 minutes at 350 degrees (F), or microwave for 3 – 4 minutes on high, or until the cheese is melted.
Cut into squares and serve.